---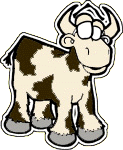 ---
So, you weren't looking for COW.NET?
Well, we're sorry to hear that. Really, we are. Perhaps you were looking for one of the following sites instead; they all have bovine or dairy-related names and maybe you should check them out too. Of course, you'll probably want to bookmark COW.NET in case you change your mind and you want to come back immediately.
NOTE: The focus here is on DOMAIN NAMES, not the usefulness of the sites themselves. There have actually been a number of people who have actually come to COWZ expecting something different than some moron running around a field with Holstiens in a cow suit, but the focus here is on the names themselves. In some cases, people have absolutely nothing about cows on their sites. But between all these places, you'll probably actually find what you were looking for anyway, which is the magic of the Web. Moo. On with the show.